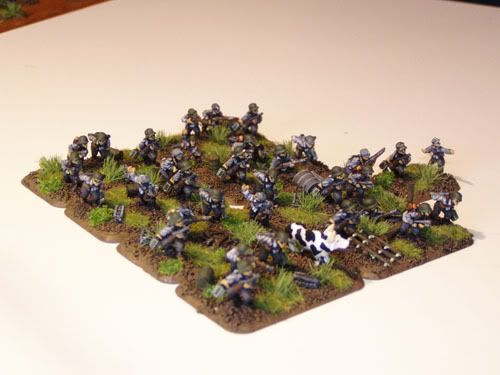 Inauguro un Blog, que tán de moda están. En él iré poniendo mis proyectos, lo que vaya pintando, alguna técnica de pintura, etc...
Hasta ahora, en los años que llevo en este mundillo de las miniaturas he pintado bastantes ejércitos de Flames of War (soviético, finés, italiano, británico y alemánes ), además de un ejército nacional y otro republicano de la Guerra Civil y he realizado varios proyectos de escenografía.
Ahora mismo estoy pintando un ejército rumano y húngaro, de los que intentaré colgar fotos en cuanto estén listos, y tengo algunas unidades de Xyston, en 15mm, pintadas.
Intentaré traducir mis posts al inglés para practicar un poco de inglés y que si algún extranjero acaba en el blog se entera de qué cuento xDDD
_________________________________________
First of all, I'm sorry for my poor english.
I inaugurate this blog. Here I'll post my projects, miniatures I paint, some paint techniques...
Until now, in the years I'm in this world, I painted quite a lot of Flames of War armies (soviet, finnish, bialian, british and germans) besides a Nationalist and a Republican of SCW, and some scenery projects.
Just by now I´m painting a Romanian and Hunarian army, which I'll post as soon as I finish them, and also I'm painting some Xyston 15mm units.